Cost Centres
Cost centres are optional, you can choose to use them or not! They're useful for allocating spend if your company does a lot of re-billing but also great for keeping track of in-house spend. Cost centres can also be set as mandatory if you wish, meaning that employees will be prompted to add one every time they go to book a trip. It's a reminder to the passenger, which ensures that your reporting will run smoothly but also handy in case someone accidentally forgot to change the payment method. The reminder will prompt them to switch to a personal card or cash, meaning there's no awkward explanations needed for an out of hours trip.
As mentioned previously, you can have as many cost centres as you like and all you have to do is go to the 'Cost Centres' tab and click 'Add Cost Centres'.

You can paste a list of cost centres here or type the cost centre and then press the enter key.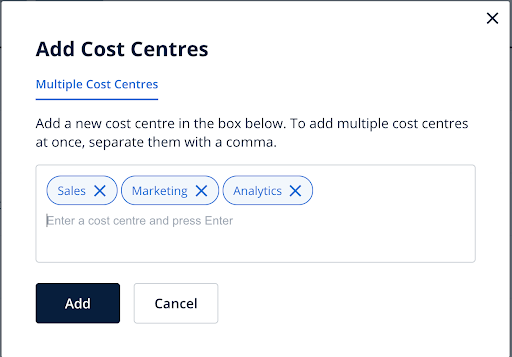 Once you click 'Add', they'll appear in the cost centre list and to delete, you tick the box beside the relevant centre and click 'Delete'.