Employees
Moving on to employees, here is where you can find a full list of every account member, along with their roles, cost centres and custom values (if applicable). You can also use the search bar to find a name quickly if there are large numbers of employees on the account.

There are three roles an employee can be assigned:
Admin: Has full access to the administration panel so they can add/remove employees and cost centres, download trip reports/invoices and set other general account parameters.

Booker: Can book for themselves or on behalf of other employees via our online web booker.

Passenger: Can book for themselves via our app.
These roles can be pre-assigned in the invitation when it is sent to the employee (if you're inviting them individually) or assigned after an employee has joined. They can also be amended at any time.
We'll talk about cost centres in more detail in the next section but these can be added and removed at any time and there is no limit to the amount of cost centres you can have. If it is the case that employees would be booking trips and charging them to different cost centres regularly, the field on the admin panel can be left blank.
The custom value can also be left blank but can be used for absolutely anything i.e. an employee ID.
Inviting employees
To invite employees to the account, you click the 'Invite Employees' button as shown in the image above. Here, you will have two options:
Multiple Employees: you can paste a list of employee email addresses if you want to bulk send invitations. These employees will not have a role or cost centre set when they receive the email.

Single Employee: if you're only inviting one employee at a time or you wish to pre-set roles/cost centres/custom values, you can use this option.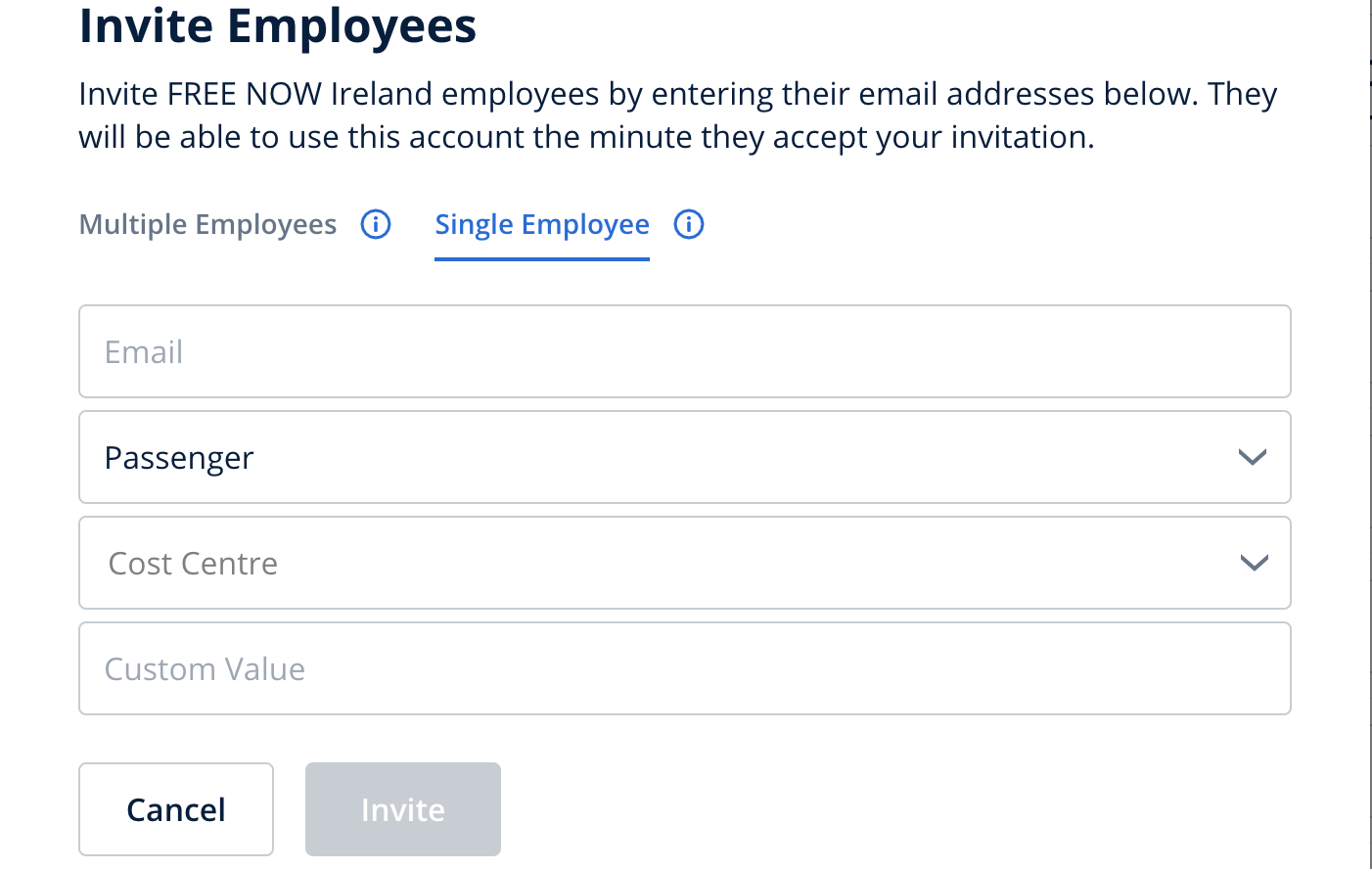 Once you've invited the employees, they will show in the 'Invited' list until they join the account and then they'll appear in the 'Employees' list. You can resend invitations at any time by clicking the box beside their email address and hitting 'Resend' at the top of the list.